It seems the Husqvarna vs Stihl debate is one everyone who owns a chainsaw wants to join. There's not much middle ground in this rivalry. Check out these videos to see some challenges in action.
Stihl 290 Burst vs Husqvarna 55 Rancher
This is a real short video which speaks to the effectiveness of these saws. This is head to head competiton. You can see for yourself which chainsaw won, but I will say I was surprised at the outcome. It looked to me like the other saw had the lead most of the way.
Stihl MS 260 - Husqvarna 346xp Comparsion
This video demonstrates one guy using first the Stihl MS 260 to make a number of cuts, and then the Husqvarna 346xp to do the same. He then repeats the process. He sure makes it look easy. My take is the Stihl looks and sounds much smoother, but the Husky is quicker and more powerful. What do you think?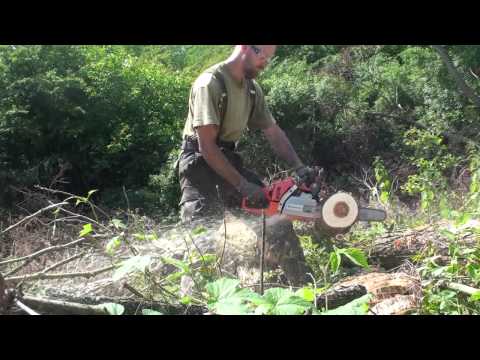 Stihl Ms 290 Farm Boss vs Husqvarna 445 Rancher
In a video previously available on YouTube, Garrett, an owner of a Stihl MS 290 Farm Boss, talked about why an Husqvarna 445 Rancher is a better chainsaw. (Not sure why the video was removed.)
Although he said both chainsaws are "tough and easy to work on," he also listed why he believes the Husky is better than the Stihl. Here's what he listed:
Husqvarna has a compression release and Stihl doesn't.
You can get replacement chains anywhere for the Husqvarna but have to go through the dealer for replacement chains for this Stihl.
The Stihl doesn't oil enough.
The Husqvarna has a better anti-vibe system.
The Husky has air injection which keeps the filter cleaner.
The 445 is lighter than the MS 290 (although not by much).
There are more Husqvarna dealers.
Which is better, a Stihl or an Husqvarna? Both companies make great products and ultimately you'll have to decide which is the best chainsaw for you.
Related articles:
Stihl Chainsaws
Husqvarna Chainsaws